​
Raven & Rose is an Eco-friendly shop serving the community in a fun and welcoming environment. Our emphasis is on custom hair color, precision hair cutting, specialized hair treatments with sustainable products, and personalized service. We strive to provide a relaxing space for our clients and a venue to promote creativity, passion, and inspiration for our stylists.
​
​
Curbside pickup available for online sales
Single Process Color
Partial Highlight
Full Highlight
Bleach & Tone
Balayage/Ombre
Creative Color
Studio
$100+
$120+
$160+
$225+
$150+
$300+
Senior
$120+
$145+
$180+
$250+
$175+
$400+
*Consultation required for Creative Color*
Long Haircut
Pixie/Bob Haircut
Short/Barbering
Children (12 & under)
Botanical Therapy
Olaplex Treatment
Studio
$60+
$60+
$55+
$50+
$15+
Senior
$90+
$80+
$80+
$65+
$20+
$30+
Blowout
Updo/Formal Style
Bridal Styling
Keratin Treatment
Organic Perm*
Studio
$55+
$85+
$250+
$250 -
$150 -
Senior
$75+
$100+

$400+
$300+
*Consultation required for Creative Color*
>> Prices are subject to change and may vary depending on the length/density of hair and complexity of the service <<
We are an Eco-conscious salon utilizing Davines and Aveda professional hair color, shampoos, conditioners and styling products as well as offering a selection of retail items. Choosing environmentally friendly products and socially responsible brands are essential to our mission of maintaining harmony with our planet and community.
​
​
Davines: Founded in 1983 by the Bollati family, their focus is on crafting quality products that are scientifically engineered for effectiveness and express their distinctive style and spirit. As a B-Corp company, Davines makes everything with special attention to and respect for our environment. Many products are still grown and produced in the family-owned facility in Parma, Italy.
​
​
Olaplex: bond-building and protecting additive for compromised hair.
​
​
Keratin Complex: smoothing services delivering the versatility of smoother, healthier-looking hair that can be styled wavy or straight as desired by infusing hair with high concentrations of keratin to strengthen and fortify the hair (formaldehyde free).
​
​
Oway Owave Organic Perm: the first perm and texturizing system to use fair trade açai oil, organic hops and oat peptides to create bouncy, beautiful curls without thioglycolates, ammonia or parabens.
Highly versatile and customizable, Wave Shaper can be used as a relaxer or perm for any hair type or condition. Rich in antioxidants, amino acids and plant proteins, this organic perm leaves hair healthy and soft.
​
​
Pulp Riot: vegan, direct-dye, vivid hair colors that provide a rainbow of options for hair without ammonia.
​
​
Imaginary Authors: bespoke unisex fragrances that evoke compelling story lines peppered with intriguing twists. These are scents to curl up with, to share with friends, to take with you wherever you go, and to return to again and again for a uniquely transcendent experience.
​
​
Malicious Women Co: custom blended, extra fragrant, apothecary style candles, diffusers, and room sprays... Labeled for every malicious occasion.
1154 Solano Avenue
Albany, CA 94706
BUSINESS HOURS
​
FRIDAY - WEDNESDAY
10am - 6pm
(Closed Thursdays)
F A Q
Apa itu waitlist challenge?
---
Sebuah periode di mana kamu berkesempatan untuk mendapatkan akses eksklusif lebih cepat ke aplikasi Nanovest, dan juga mendapatkan rewards yang menarik! Kamu bisa menang 100.000 NanoByte Token (NBT) dalam periode ini. Kunjungi nanobytetoken.io untuk pelajari lebih lanjut mengenai NBT.
---
Apa itu NanoByte Token (NBT)?
---
NBT adalah crypto token dari Nanovest. Kamu bisa dapetin NBT dengan download Nanovest & ikutan waitlist challenge. Selain itu, kamu juga bisa dapet NBT dengan ngelakuin berbagai aktivitas dan transaksi setelah kamu dapat full access ke semua fitur di Nanovest.
---
Kapan saya bisa mulai investasi saham & aset kripto di Nanovest?
---
Saat ini, aplikasi Nanovest sedang dalam rilis terbatas. Kamu bisa mulai investasi setelah kamu dirilis dari waitlist. Kami akan memulai proses rilis pada 10 Desember 2021. Semakin tinggi posisimu di waitlist challenge, semakin cepat kamu dirilis & bisa menikmati seluruh fitur di Nanovest! Ayo download Nanovest & join waitlist sekarang dan jadilah yang pertama untuk nikmati semua fiturnya!
---
Apa itu Nanovest?
---
Nanovest adalah aplikasi investasi revolusioner di Indonesia. Di sini, kamu bisa investasi saham luar negeri & aset kripto dalam satu aplikasi, pertama di Indonesia. Selain itu, kamu bisa transfer uang gratis ke siapa pun & kapan pun! Semua investasi di Nanovest mulai dari Rp 5ribu aja, bebas biaya transaksi, dan tentunya gampang banget. Kamu juga bisa dapetin berbagai hadiah menarik, mulai dari uang, aset kripto, dan masih banyak lagi. Jadi, yuk download Nanovest & ikutan waitlist sekarang!
---
Sampai kapan waitlist challenge akan berlangsung?
---
Waitlist challenge dimulai pada 22 November 2021 dan akan berakhir pada 10 Desember 2021.
---
Apa yang terjadi ketika saya masih berada di dalam waitlist?
---
Kami berusaha keras untuk menghadirkan Nanovest secepatnya kepada kamu. Kami akan merilis semua user secepat mungkin, dan tentu saja kamu akan diberi tahu jika sudah dirilis! Penasaran dengan aplikasi Nanovest? Yuk, intip lebih lanjut di bagian "News" di halaman Utama aplikasi Nanovest
---
Bagaimana cara kerja waitlist challenge?
---
Setelah kamu daftar ke Nanovest, kamu bisa lihat posisimu di waitlist / daftar tunggu. Ajak teman ke Nanovest sebanyak-banyaknya pake kode referral kamu. Saat temanmu daftar ke Nanovest pake kode referralmu, posisimu di waitlist akan naik. Kamu dan temanmu juga akan dapat masing-masing 20 NBT.
Selain itu, kamu juga bisa menang 100.000 NBT tergantung dengan posisimu di akhir periode waitlist challenge (lihat tabel di bawah):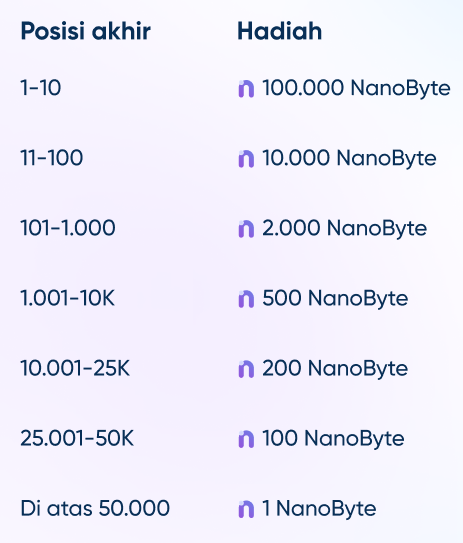 ---
---